Sometimes you just need a big 'ol hunk of seared tuna. I get it. That's why I'm giving you this recipe for seared ahi tuna with a nice fresh mango and avocado salad. It's the perfect way to brighten up your day.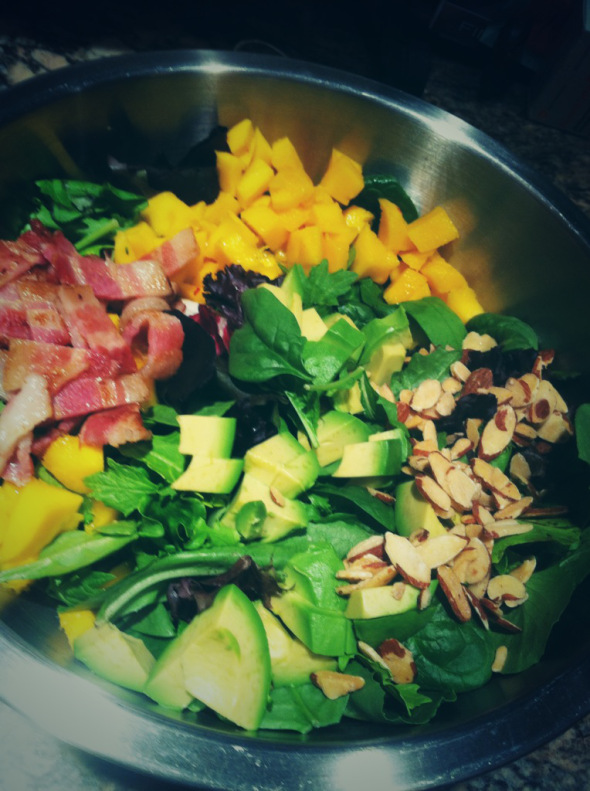 Seared Tuna with Mango-Avo Salad
FOR THE TUNA
1 cup soy sauce

1/2 cup lemon juice

4 tablespoons olive oil

1 clove of minced garlic per tuna steak

sea salt and crushed black pepper to taste
FOR THE SALAD

4-5 big handfuls of mixed greens
1 mango, peeled, chopped
1 small cucumber, sliced
2 slices bacon, cooked & chopped
3/4 avocado, chopped
1 handful honey roasted sliced
Directions

Combine all the marinade ingredients in a 9×13 glass baking dish. I just whisked it all together with a fork. Set tuna steaks in the marinade, first dredging both sides. Let marinate for about 30 minutes (flipping halfway). You don't want to leave the steaks in for too long or else the soy sauce will be too overpowering.
While the steaks are marinating make the salad. Combine all ingredients and toss together with a good seasonings italian dressing mix (using white balsamic vinegar instead of regular vinegar). You could also use any of your favorite dressings.
In the same pan you cooked your bacon, add some grassfed butter and sear the scallops. Set them on a serving platter and keep warm in the oven. Scrape the pan, add some more butter and sear the tuna steaks over high heat. They only need a few minutes (2 or 3) on each side because you want them to be pink and tender on the inside. Transfer to a plate and slice or leave whole. Serve with scallops and salad. I also served with sauteed broccolini and peppers.